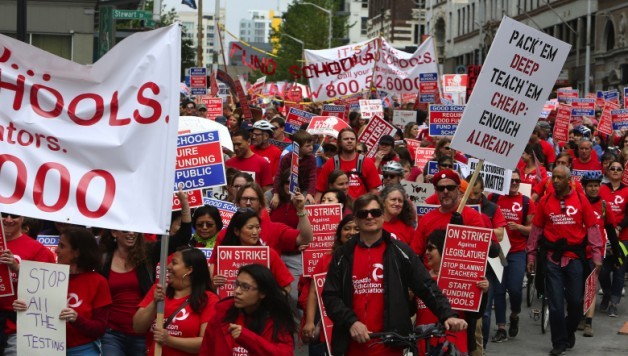 Teacher unions are common villains in the tales of far-right talk show pundits, especially when striking. Painted as taking a day off work from the crucial task of educating our children, just to get a raise, this caricature doesn't hold much water.
[youtube id="PHkcLuUqq3k" width="620″ height="360″]
Teachers and students in Washington State are staging rolling walkouts to protest the underfunding of public education. On May 19, I marched with thousands of Seattle educators and students. Actions across the state have bridged the political divide from agrarian, "conservative" Eastern Washington to the "liberal" Puget Sound area This strike is a harbinger of renewed strength and militancy in the labor movement.
A Recent History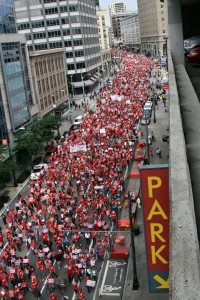 In the January 2012 McCleary decision, the Washington State Supreme court ruled that the state legislature has failed to fulfill its paramount duty to "make ample provision for the education of all children residing within its borders".
In 2014, the Supreme Court went a step further and found the State Legislature in contempt of court for having not made adequate yearly progress towards funding the districts that are struggling most–especially those not benefiting from Washington's regressive, income and sales reliant, tax structure. Also in 2014, voters approved a state ballot initiative mandating a reduction in class size.
Yet, the legislature prioritizes a 11.2% "cost of living" raise for its own members and refuses to reverse the $8.7 billion handout to Boeing, given in 2013! It's little wonder why 24 school districts across the state have voted for and/or participated in one day strike actions. In Seattle, teachers in an astonishing 96 out of 97 buildings voted to strike.
The Rebirth of Union Militancy
Political gridlock in the state legislature and the failure of ballot initiatives and court decisions to make progress has forced the Washington Education Association (WEA) to take a more militant approach. Union locals have used rolling walkouts to focus community and social media pressure on legislators. The coordinated statewide actions are a warning shot and the union is threatening a full-scale strike in the '15-'16 school year if a budget is not passed that fully funds public schools. On the ground, Socialist Alternative is advocating for further parent and community supported mass strike action as the way to organize against neoliberal cuts to public education and demands:
Funding of all public schools as required by the McCleary decision.
No tying teacher pay to test scores. Against the pseudoscience of value-added modeling.
End the privatization of public schools through corporate charter school networks and the for-profit testing industry.