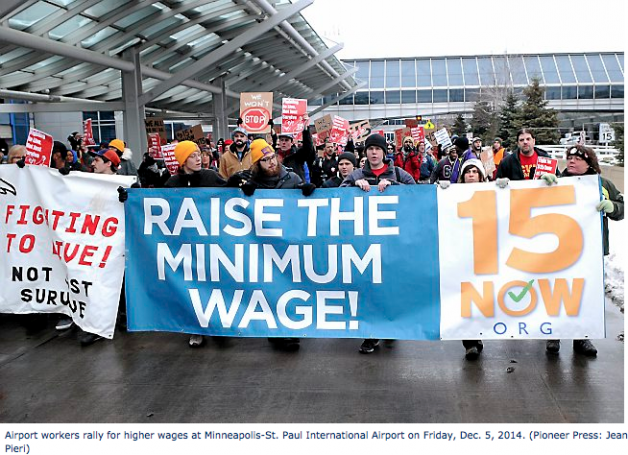 Ginger Jentzen is a 15 Now Organizer in Minneapolis
After nine months of pressure from 15 Now, the Service Employees International Union (SEIU), and the International Association of Machinists and Aerospace Workers (IAM), the Metropolitan Airports Commission (MAC) and Minnesota Governor Mark Dayton, who appoints the commission, are publicly debating raising wages at the Minneapolis-St. Paul International Airport (MSP). Along with unions at the airport, 15 Now is entering negotiations with the MAC with a demand for $15 an hour for all MSP workers.
The governor has come out publicly in support of a $10 an hour minimum wage at MSP, (Pioneer Press, 03/25/15), in an attempt to deflect workers' demands for $15. MAC Chairman Dan Boivin announced public discussion on the wage issue, admitting, "There will still be commissioners who will want to talk about higher wages … They think '15 Now' makes more sense," (Pioneer Press, 03/27/15).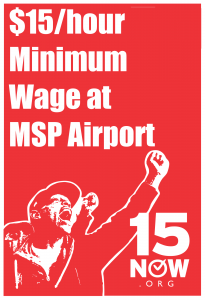 15 Now initiated the demand for $15 an hour at MSP, with the support of Delta ramp workers organizing with the IAM, followed by the SEIU local as part of its organizing drive. In the fall, over 2,000 workers signed a petition for $15 an hour and staged a series of demonstrations, culminating in over 250 supporters participating in a day of action last December. The action received massive media attention, in part because Delta retaliated against leading 15 Now and IAM organizer Kip Hedges for speaking out on low wages.
The many airport demonstrations have already resulted in workers winning paid sick days by MSP subcontractors, and forcing low-wage subcontractor PrimeFlight to raise wages. The governor also appointed two rank-and-file airport workers to the MAC, including the first East African and low-wage worker, Ibrahim Mohammad. These interim victories demonstrate the pressure mounting on the MAC to set labor standards at MSP that are in workers' interests.
We enter into negotiations with the MAC and the governor's office knowing that there is broad labor support for $15 an hour by virtually all unions representing workers at the airport. Some proposals being discussed would keep the wage floor quite low, while others might leave some workers without a raise while providing one for others. But some victory is likely soon, despite efforts by Delta, Air Serv, and others behind the scenes to minimize any wage hike.
A victory for a $15 minimum wage at MSP would put substantial pressure on large companies like Delta, United, and others to set a higher wage floor generally and to not subcontract cabin cleaning and other currently low-wage jobs to the lowest bidder. It is crucial for 15 Now, labor unions, and airport workers step up the fight in the weeks ahead. Any substantial raise for even a portion of workers would be welcomed, but we must continue to demand a $15 an hour minimum wage for all workers.
A victory is possible, but it will take a major mobilization and a firm commitment by union leaders because large anti-union companies like Delta will use their economic leverage over the MAC to water down any rise in wages. 15 Now will be mobilizing to win the strongest possible proposal to bring all workers up to $15 an hour.