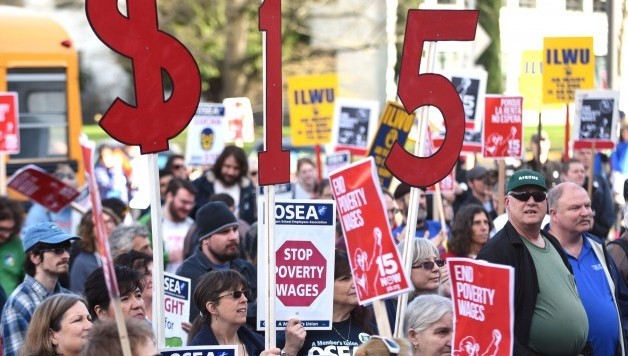 Republished from 15Now.org
Major Victories Possible If Labor Launches a National Campaign for a $15/Hour Minimum Wage
On April 15, fast-food strikers and other low-wage workers are planning their biggest protests yet for "$15 and a union." The driving force behind these actions, the Service Employees International Union (SEIU), reportedly aims to turn out 60,000 workers and supporters in over 200 cities across the country.
Chapters of 15 Now are going all-out to build for the April 15 demonstrations, to demand union rights and raising the minimum wage to $15 an hour. According to a January Hart Research poll, 63% of the country now supports a $15 federal minimum wage. Support is even higher in most big cities. The time is right for the big unions to help launch an all-out national campaign for a $15 an hour minimum wage.
Let's use April 15 to kick things off!
Everywhere, anger at corporate greed – and the extreme wealth and racial inequities – is reaching a boiling point. The fight for a $15 an hour minimum wage has the potential to become a powerful mass movement uniting low-wage workers demanding union rights, people of color standing up against racism, and young people facing a dead-end future.
Union Power
15 Now is urging SEIU, alongside the AFL-CIO unions, to link up the industry-specific "$15 and a union" campaigns with a mass campaign for a $15 an hour minimum wage in every city and state, and at the federal level. Uniting workplace organizing drives with the demand for $15 for all low-wage workers could bring far greater numbers into action, on April 15 and beyond. Given the concentration of communities of color in low-wage jobs, the call for a $15 an hour minimum wage could also attract youth radicalized around the #BlackLivesMatter protests.
If the big unions adopted this approach, many big cities could see tens of thousands on the streets demanding a $15 an hour minimum wage and offering solidarity to low-wage union drives.
Imagine if the big unions and groups like the NAACP mobilized an army of tens of thousands of volunteers and staffers, as they do for every big election, to build mass demonstrations on April 15 and further national days of action. As the victories for $15 an hour in Seattle and San Francisco show, a mass movement for $15 could win far more for working people than spending hundreds of millions on elections, often to back corporate-sponsored Democratic Party politicians.
We can't continue to let our unions put political loyalties above fighting for what workers need to survive. While many union leaders will demand McDonald's and other employers pay $15, few put this same demand on city, state, and federal politicians. This is because many union leaders want to avoid conflict with Democrat Party tops who, in turn, want to avoid conflict with their business backers who, in turn, defend poverty wages to maximize their profits!
Build 15 Now
The potential to build powerful grassroots campaigns for $15 is shown wherever strong, politically independent campaigns like 15 Now or left-wing union locals have taken the initiative. In Seattle and San Francisco, pressure from below pushed virtually the entire labor movement to back $15 and win historic victories.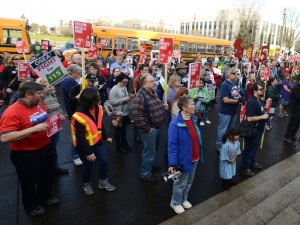 The three strongest campaigns for a $15 an hour minimum wage today – in Oregon, Minneapolis, and Philadelphia – were all initiated by 15 Now. All three are gaining significant union support. Campaigns for a $15 an hour minimum wage in Chicago, Los Angeles, and other cities also made important headway after SEIU and other unions swung behind them.
These local examples show the huge potential to build a unified national campaign for $15 an hour minimum wage in every city and state, and at the federal level. Making this a reality will require building strong independent grassroots campaigns, as well as pressure inside the unions, to demand that the full resources of the labor movement are thrown behind this effort. Just as the call for the 8-hour day helped inspire the early labor movement, today the fight for $15 could bring a whole new generation of unorganized workers into struggle.
15 Now Surges in Oregon, Minneapolis, Philadelphia
Justin Harrison, CWA member, Philadelphia
15 Now is leading what are arguably the three most serious campaigns for a $15 an hour minimum wage in the country.
In Minneapolis and Philadelphia, and in Oregon, $15 an hour is on the political agenda. Each of these campaigns faces unique challenges, but the unifying element is the role 15 Now plays in leading politically independent, grassroots campaigns.
15 Now Oregon
Like in many states, activists in 15 Now Oregon face a statewide preemption against municipalities independently raising the minimum wage. However, in coalition with workplace struggles, 15 Now has built a string of small victories to build momentum to overturn the statewide preemption so that Portland and other cities can act.
A statewide network of 15 Now chapters, working in coalition with nearly 80 labor and community organizations, helped to win a $15 an hour minimum for Portland city contractors, seasonal parks workers, employees of Multnomah County, Home Forward workers, and temporary workers represented by AFSCME Local 3580.
Working with supportive legislatures, 15 Now built near-unanimous labor support behind bills to bring the statewide minimum wage up to $15 and to overturn the preemption law. With legislative victory unlikely, a coalition is also building for a ballot measure in 2016 to make Oregon the first state to pass a $15 minimum wage.
15 Now Minneapolis
In Minneapolis, 15 Now initiated a campaign at the MSP airport, calling for a $15 wage floor and working in solidarity with three ongoing union drives. After 2,000 workers signed petitions and organized multiple demonstrations – including a rally of 200 that temporarily shut down traffic into the airport – a victory appears within sight.
In February, with the momentum from the airport campaign, 15 Now initiated a campaign in Minneapolis to raise the minimum wage to $15 an hour with a 250-strong rally. Despite front-page opposition from Mayor Betsy Hodges, grassroots pressure is building, and four of thirteen city council members are publicly backing a wage hike.
This pressure also helped convince SEIU and Minnesotans for a Fair Economy – the main forces who got the mayor elected – to back a $15 an hour minimum wage in Minneapolis. On April 15, we will see over 1,000 workers on the streets in Minneapolis calling for union rights and a $15 an hour minimum wage.
15 Now Philadelphia
Pennsylvania also imposes a statewide preemption law preventing municipalities from raising wages. Despite this, 15 Now is building an aggressive campaign of direct actions, demonstrations, and media coverage. Union and community support is building, including strong links with #BlackLivesMatter and SEIU's Fight for $15. Two university 15 Now chapters are organizing lively campus living-wage campaigns.
Philly 15 Now pressured City Council to hold hearings on the impact of raising the minimum wage and challenging the state preemption. The speakers at the hearing included economists, educators, labor leaders, and low-wage workers. 15 Now called for clear council resolutions opposing preemption, for raising all city employees and contract workers to $15 an hour, and for a ballot measure to support $15 an hour.
In a measure of our popular support, a majority of mayoral candidates for the upcoming city elections are calling for a $15 an hour minimum wage and pledging to fight preemption. At the state level, the campaign is working with allies to introduce $15 an hour legislation and lift the preemption.