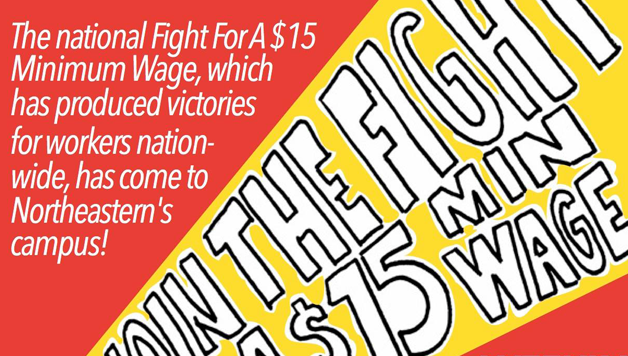 As the fight for a $15 an hour minimum wage continues to spread, students at Northeastern University are breaking new ground by becoming the first students in the country to bring the fight for $15 to their college campus. As the cost of living in Boston continues to rise and gentrification continues to plague the city, workers and students have no choice but to unite in the fight against poverty wages.
Joseph Aoun, the president of Northeastern, is the second-highest-paid university president in the country, with a salary of $3,121,864, 117 times what campus security guards make. In 2014, Northeastern's endowment was $713.2 million. There is no reason that even a tiny percentage of this money can't go toward ensuring that all campus workers are afforded a decent standard of living. However, as Northeastern and many other universities are becoming increasingly corporatized, university administrations cares less about quality education and the well-being of campus workers and more about maximizing their profits.
Initiated by Northeastern Socialist Alternative, this campaign is being carried out by a coalition of student groups under the banner of 15 Now Northeastern. The students have to collect 750 student signatures to get the question on the student government elections ballot at the end of March. If a majority of students vote yes for all campus workers to be paid a minimum of $15 an hour, they will be the first students in the country to do so – but that won't be the end of the campaign. Student referendums are nonbinding and will only serve as a tool for 15 Now Northeastern to make sure their university stays true to its self-proclaimed mission of social responsibility and integrity by providing a living wage for all campus workers. This is just the first phase of a potentially historic campaign.