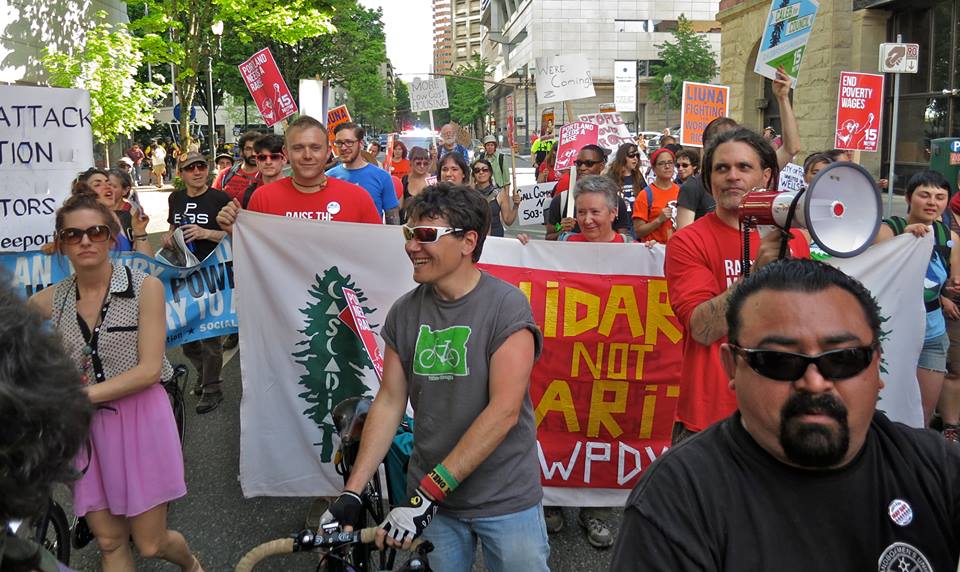 Somewhere between the citywide victories for $15 in Seattle and San Francisco lies the "little big city" of Portland, Oregon. While a state preemption law prevents Portland from raising the minimum wage for everyone in the city, workers here refuse to accept this unjust policy. 15 Now has mobilized over 30 unions, community organizations, and businesses to endorse $15 for Portland and the State of Oregon.
As these endorsements come in and a coalition for $15 is being built, low-wage workers in unions like LiUNA and AFSCME are demanding $15 in their contract negotiations. On Halloween, news broke that the first two contract victories for $15 were won in Portland! Employees of Home Forward, a local housing agency, as well as seasonal parks workers, both won $15. A third victory came days later when employees of Multnomah County won a contract that includes $15 an hour!
These contract victories in Portland place mounting pressure on our city council to revise the Fair Wage Policy to $15, affecting workers employed by companies that contract with the City. 15 Now Portland recently held a community hearing on the Fair Wage Policy. Over 100 people, including representatives of city commissioners, heard moving testimony from affected workers, economists, and faith leaders. Commissioners' representatives were also presented with over 5,000 signatures demanding $15.
With mounting grassroots pressure and government agencies throughout the Portland area giving in to the demand for $15, a victory on Portland's Fair Wage Policy may be on the horizon. Meanwhile, around the whole state workers are organizing and preparing to fight for $15 for all of Oregon!