Challenging Corporate Politicians Requires Stamina – But It's Worth It
With 16% for Jess Spear of the votes counted so far, Socialist Alternative evaluates its campaign which had a major impact in advancing the discussion on rent control, taxing the rich, and corporate politics.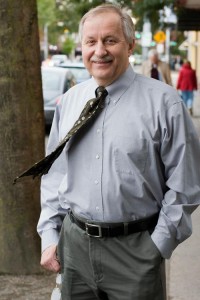 Socialist Alternative candidate Jess Spear's campaign against Frank Chopp — the most powerful legislator in Washington State — was strong enough to force Chopp to perform a bizarre masquerade.  The 20-year Democratic incumbent and Speaker of the House for the past 16 years portrayed himself as a "progressive activist," despite overseeing record handouts to corporations like Boeing year after year.
Under the pressure of the Spear campaign, Chopp claimed to be for rent control despite doing nothing to advance it over his 20-year tenure, including years of a Democratic super-majority in both chambers of the legislature and a Democratic Governor.  Chopp claimed to be an early advocate in the fight for $15, yet failed to get a $12 minimum wage out of committee.  Despite being held in contempt of court by the State Supreme Court for criminally underfunding education, Chopp presented himself as a champion of school funding.
Jess Spear soundly defeated Chopp in all the debates.  The campaign mounted a strong grassroots effort mobilizing volunteers, distributing over 50,000 leaflets, putting up thousands of posters and yard signs, and raising a phenomenal $76,000 in donations from over 650 people without taking a dime in corporate cash.
Spear's campaign succeeded in forcing a debate in the mass media and the wider public on the need for rent control, the underfunding of education, and ending the billions in handouts to Boeing and other big corporations.  The campaign also played a decisive role in organizing the People's Climate March in Seattle on September 21, drawing 2,000 people to the rally and hundreds to blockade oil and coal trains.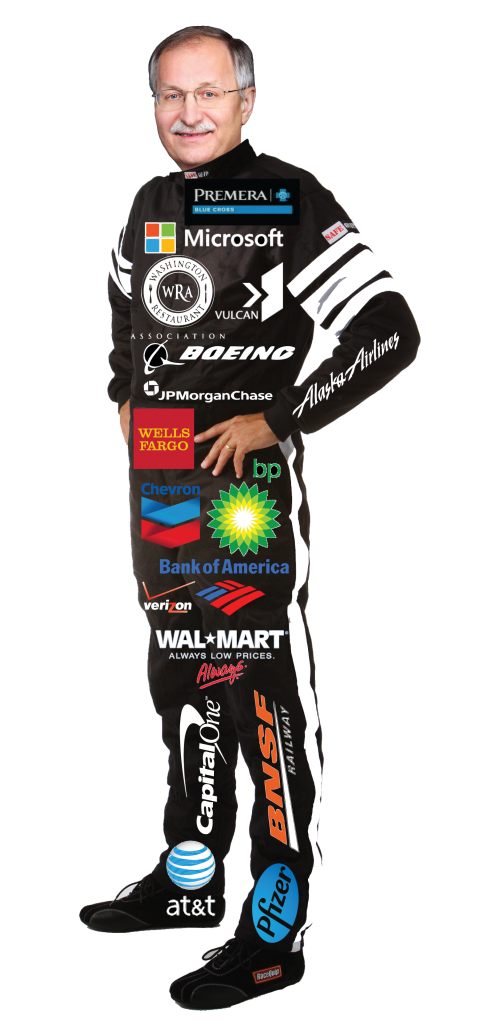 Unfortunately, despite these efforts, we were only able to expose Frank Chopp's "progressive" charade to a minority of the district's voters.  A large share of the responsibility for Chopp's success in hiding his corporate politics lies with the leaders of labor and progressive organizations. These leaders publicly endorsed Chopp and covered up his abysmal record of corporate handouts, budget cuts, regressive taxes, and underfunding education.  The Stranger, Seattle's second largest newspaper, had previously supported Kshama Sawant's Socialist Alternative campaigns against Chopp in 2012 and her race for City Council in 2013 but did not support Jess Spear's campaign.  Seattle City Councilmember Nick Licata, a longstanding progressive, championed Chopp in both robocalls and a prominent endorsement quote on Chopp's mailers.
These leaders knew better — there wasn't even a threat of a Republican in this race!  And yet they bent to the powerful influence of Speaker Chopp.  They missed an opportunity to elect a representative for working-class people and strike a blow against corporate domination of politics.  If they had endorsed and energetically campaigned for Spear, as some had done for Sawant last year, it would have been a completely different race.  Spear would have had a real chance of becoming the second socialist elected in Seattle in only two years.
The corporate media and political establishment did not take Socialist Alternative seriously when Kshama Sawant ran for office in 2012 and 2013.  But once Sawant was elected in 2013 and, along with Socialist Alternative, led the fight that raised Seattle's minimum wage to the highest in the nation, they learned that they could no longer ignore us.  As soon as Spear filed her candidacy, Chopp rallied the establishment to unite behind him.  Chopp ran a much stronger campaign than he has ever run, sending out more mailers than most candidates.
Establishment commentators fetishize election results as the indicator of public opinion. However, the 16% vote Spear received on election night does not accurately reflect the support we found in a majority of conversations at doorsteps throughout the district. The reality is that this election only indicated the views of the minority who actually voted, which is heavily skewed toward older, more conservative sections of the electorate who make up Chopp's base.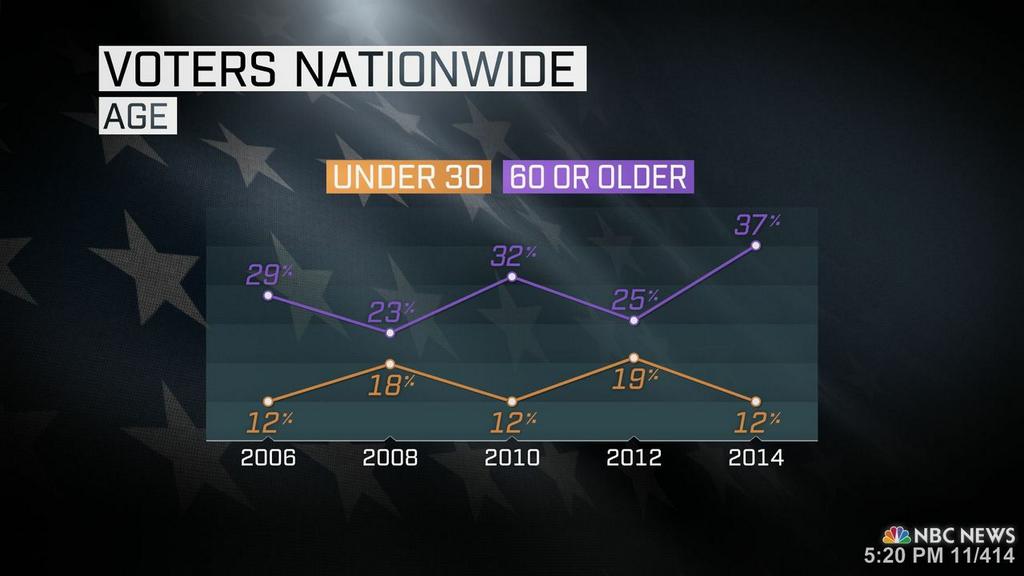 The election result is also part of a larger national picture.  The low voter turnout in Seattle was matched by an incredibly low turnout across the country.  Only one third of registered voters voted nationally!  An older, whiter, more conservative electorate decided the election.  An NBC exit poll found voters under 30 made up 19% of the electorate in 2012 but only 12% this year.  At the same time, voters 60 or older increased from 25% to 37% of the electorate.
The overwhelming sentiment among more progressive workers nationally and in Seattle was a fear of a Republican victory, while at the same time, disgust and disillusionment with Obama and the Democrats.  Poll after poll show clearly that there is massive dissatisfaction with both parties and no increased confidence in the Republicans. Those Democratic Senators who lost their seats in 2014 got into office with the high hopes for Obama in 2008 – and went down in defeat as voters lost these illusions when their living standards continued to fall.
This resulted, on the one hand, in a mood of demoralization and voter abstention, and on the other as a strong "lesser evil" mood among the traditional Democratic Party voters who did turn out.  In Seattle, this went along with a strong desire to see the Democrats take back control of the Washington State Senate which reinforced a tendency to vote Democratic down the line.
This does not reflect a rejection of issues important for working-class activists and socialists.  Ballot initiatives to raise the minimum wage passed with decisive margins in all four states where the issue was up for a vote, all of which are considered conservative states — Alaska, Arkansas, Nebraska and South Dakota.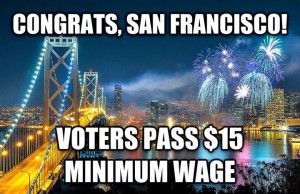 San Francisco became the second major city after Seattle to implement a $15/hour minimum wage, which passed with 77% of the vote!  The $15 measure in San Francisco is even stronger than Seattle's law — all San Francisco minimum wage workers will receive $15/hour by 2018 with no tip penalty or "total compensation."
Also in Seattle, a number of ballot initiatives that show support for a left-wing, working-class agenda were passed.  Increased funding for mass transit passed with almost 60% support, and pre-school funding was widely supported (despite the confusion the City Council majority cynically caused with pitting ballot measures 1A and 1B against each other).  And in a major defeat for the National Rifle Association, Washington State voters approved an initiative to strengthen background checks, the first time gun control measures have passed in a popular vote.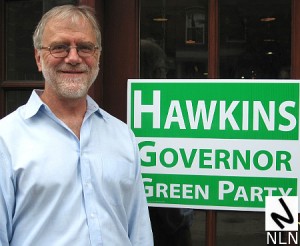 Nationally, when there was a credible independent alternative, people showed interest.  Howie Hawkins, a socialist running for the Green Party in New York State for governor, reached almost 10% in opinion polls and scored 5% in the election, winning 174,000 votes; this marks a turning point for left-wing politics in New York.  Running as a socialist for Sheriff, Angela Walker got more than 20% in Milwaukee (67,000 votes).  The 16% for Jess Spear against a powerful incumbent will also encourage activists to run more independent working-class candidates.
The essential task is to build a mass party to give working-class people a vehicle for fighting for their own interests against arch-conservative Republicans and pro-corporate Democrats.  This will require a determined, sustained struggle – but it is absolutely necessary.
While the electoral result is lower than what the campaign had hoped for, it is a basis for building further resistance against the corporate politics of the Democratic Party establishment.  The Spear campaign is part of a larger process of beginning to break the corporate stranglehold over the political system and building an independent political voice for working people, oppressed groups, and environmentalists.  The campaign helped to advance this project, raising consciousness among an important layer of more politically engaged workers and youth and helped Socialist Alternative to sink further roots, find new points of support, and involve more people on a permanent basis as activists and members of Socialist Alternative.
Sources:
Cass, Connie and Emily Swanson.  "Exit poll: Nation in a funk turns to Republicans."  AP: The Big Story  5 Nov 2014.
Schanzer, David and Jay Sullivan.  "Cancel the Midterms".  New York Times 3 Nov 2014.
NY Times, 11/05/14.