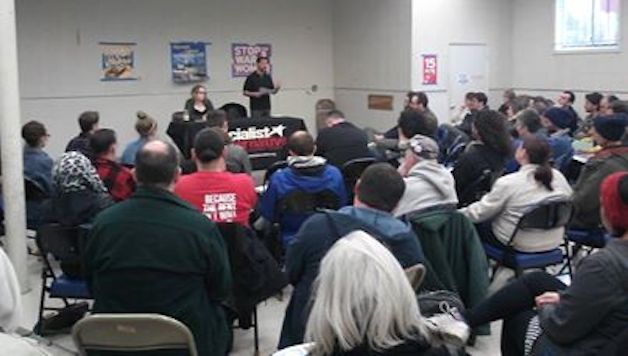 Micaiah Dutt, Portland
On February 22, 2014, members of Socialist Alternative Seattle visited Portland, Oregon with the intention of establishing a new branch of Socialist Alternative and beginning the fight for a $15/hour minimum wage in Portland. Over 50 members of the community came out to hear Socialist Alternatives ideas, the lessons of Kshama Sawant's election campaign, and the Fight for 15 campaign being waged in Seattle.
From that first meeting Socialist Alternative was able to gather its first dues-paying members and establish its first Associate Branch in Portland, Oregon.
The first Socialist Alternative Portland branch meeting was held on February 26th, 2014. New members met each other, paid their  month's membership dues, and began planning a rally for a $15/hour minimum wage in Portland during the 15 Now campaign's National Week of Action, March 7th – 15th.
Here in Portland we are inspired by Kshama Sawant's leadership, we are dedicated to the Fight for 15, we are thankful for the dedication of the Socialist Alternative members who came from around the nation to help us establish our branch, and we look forward to building a Socialist Alternative!