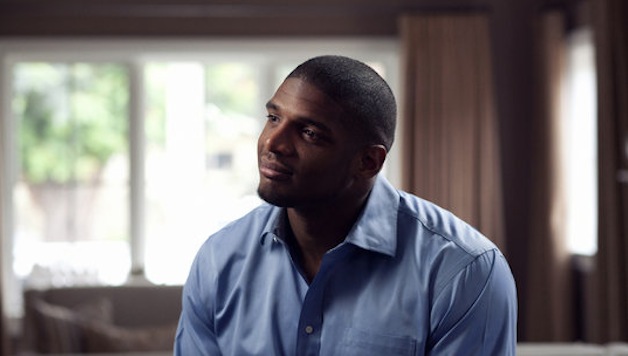 This week has seen a major splash from the effects of Michael Sam, University of Missouri's college football star, coming out proudly as gay. While there have been NFL players who have come out after retirement, Sam is the first gay player to come out before being recruited into the NFL. And his record is so good that he is probably on track to be drafted onto a team in the coming season, despite coming out as gay.
Sam came out in the face of the notoriously homophobic NFL and received support from far reaching places. Both Barack and Michelle Obama have congratulated Sam for his bravery, as did his University of Missouri coach and team, OutSports, and countless others. This step and the support received are undoubtedly steps forward for the LGBTQ (lesbian, gay, bisexual, transgender, queer) community.
The Times They Are a-Changin' . . .
The grassroots movement and coalitions developed to fight for LGBTQ rights and same-sex marriages across the country have raised the banner for LGBTQ equality in ever-growing sections of society. Anti-discrimination legislature has popped up all across the country to respond to the changing sentiment towards LGBTQ individuals, and countless employers have had to take heed of this change.
All the while, the NFL has stood relatively unchanged by this quickly changing sentiment, protected by the stereotypical macho atmosphere they attempt to enforce in professional football. As one NFL scout put it, "locker rooms are stuck in the '50s."
However, the change has reached even the NFL scouts and executives with Sam raising the LGBTQ banner boldly in their "'50s locker rooms." He has helped bring forward the fight of grassroots movements to challenge the validity of one of the unfounded stereotypes about gay men. Sam has shown that a gay man can be strong and capable on the football field.
The impressive support that came to Sam's defense has whittled away false stereotypes further and brings hope that the day has arrived when conservative institutions such as the NFL will begin accepting LGBTQ people as equals.
Jobs and Equality
Sam made a courageous step that Socialist Alternative gives full support and solidarity to. However, he made a step that is not as easy for many working-class LGBTQ people to make.  Many people still often have to hide their sexual orientations or gender identities to employers, often for measly low wage jobs, to avoid harassment or persecution in their workplace. Recently, for example, a gay Seattle Catholic school teacher was fired for loving and marrying another man.
The mass movements for equality show that society is more than ready for equality for LGBTQ people, regardless of whether all the NFL locker rooms, hiring managers, or mega-corporations are. Socialist Alternative stand fully behind Sam and all LGBTQ people by calling for democratically organized workplaces, where managers are not free to hire and fire as they choose. It should not be up to the richest 1% to decide the destiny of LGBTQ people, or any workers for that matter. The 1% must be challenged through strong, democratic trade unions that will defend workers through campaigns against homophobia, transphobia, sexism, and racism.
A Lot More to Do
While Sam has opened another door for the LGBTQ movement, there is still much work to be done. Equality still remains a far away dream for most LGBTQ people in this country. Another stark example of this is the disproportionate representation of LGBTQ youth who are homeless. Although LGBTQ youths comprise only about 5-10% of the general population, 40% of homeless youth identify as LGBT. This example shows the work of the movement is far from over.
Sam is already a success story to be hailed, and it was not the political maneuverings by corporate parties or career politicians that led to the acceptance he has received. It was the work of millions of ordinary LGBTQ people before him who came out, organized massive marches, and demanded equality.