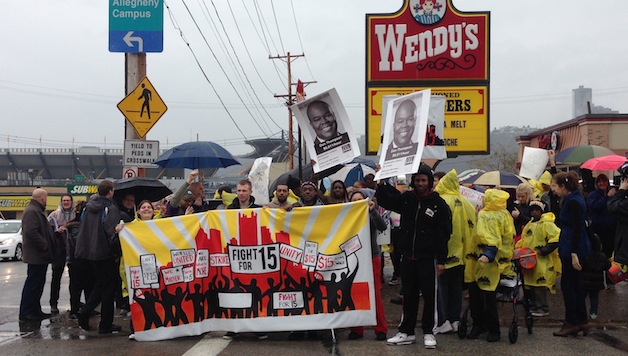 By Karl Belin, Pittsburgh
As the work day winds down, usually around 5:00 pm or 6:00 pm, Downtown Pittsburgh quickly becomes a ghost town. As the skyscrapers empty, the city's working class begins the slow trek to the more outlying neighborhoods in the city or to the sprawling suburbs. The opposite begins to happen each weekday morning, starting around 4:30 am. Thousands come teeming back to the Golden Triangle to begin again, choking the main arteries into the city well into late morning.
Some of the earliest of these daily commuters are the city's fast food workers. Often, they must begin their day two hours before their shift even begins, taking two or more buses from the working-class neighborhoods, due to the cuts in public transit a few years ago. Then a breakneck pace begins, prepping for the mad rush of office workers coming for their morning coffee or breakfast.
Due to their commutes and the rising cost of public transit in Pittsburgh, these workers, if they are lucky enough to get a full six hour shift, only see five or six hours worth of take home pay. A round trip for those who live closest to the Downtown business district is $5.00. For those who live in "Zone 2," the cost of getting to work reaches $6.50. When the cost of food is factored in, along with the fact that minimum wage in Pennsylvania is only $7.25 per hour, the degree of exploitation becomes abundantly clear.
Tired of their poverty wages and the indignity of scraping by, 200 fast food workers and supporters from around the city staged a heroic one-day strike on December 5th in the middle of the busy Market Square area of Downtown Pittsburgh, the very heart of the Golden Triangle, with the heaviest foot traffic in perhaps the entire city. Chanting, "Can't survive on $7.25," these strikers shut down the very busy Market Square Dunkin' Donuts location. Then most of the participants entered the McDonald's, located about a block away, making it impossible for the store to carry on business as usual. They blocked the counters, chanting "I'm not lovin' it!" Later, the strikers crossed the Allegheny River, to Pittsburgh's North Side, bringing their protest to the Wendy's near the main community college campus.
There have been no further actions as yet, but the workers involved in the one-day strike have learned a valuable lesson and gained some idea of what power they hold in their hands. The entire city got off to a late start on December 5th. With a city-wide, cross-industry fight for $15 now, the local and state politicians would tremble.