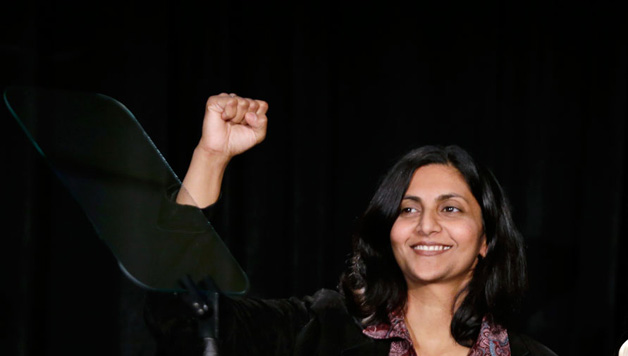 SEATTLE – City Councilmember Kshama Sawant (http://www.seattle.gov/council/sawant/&gt) issued the following statement regarding her election pledge to take only average workers' wage:
"Every Councilmember faces a choice of who they represent and which world they inhabit. My place is with working people and their struggles. I want to give a voice to workers, trade union members, women, and immigrants. As a Councilmember, I re­commit to a fundamentally different political outlook. In line with the principles of the political party I represent, Socialist Alternative, I pledged to stay accountable to working people by taking only average workers' wage.
"The people of Seattle elected me as a socialist on the platform of a $15/hour minimum wage, for affordable housing, and to tax the rich to pay for public transit and education. In addition, I strongly support all efforts to increase wages. Data shows Seattle median wages for men at $60,000 while only $51,000 for women; and people of color earn only 45% of the median income of white workers. I will fight to close the gender pay gap and to overcome the structural racism in working and living conditions.
"Seattle City Councilmembers receive over $117,000 a year – the second highest of any city council in the country. Inevitably, such a salary removes Councilmembers from the realities of life for working people. I will only take home $40,000 per year. This amount is roughly the full-time take-home pay of a Seattleite.
"After paying taxes, the remainder of my salary will go to a Solidarity Fund to help build social justice movements. Throughout the year I will be making donations from this Solidarity Fund to causes such as workers' strike funds, and environmental, civil rights, and women's rights campaigns.
"I have so far made two initial commitments. The first is $500 to Puget Sound SAGE, a union­ and community organization that played an important role in the $15 minimum wage initiative in SeaTac last year. I have also pledged $15,000 of my salary this year to the 15Now.org grassroots campaign.
"I commit to a regular and transparent accounting of all the income and expenses of the Solidarity Fund."