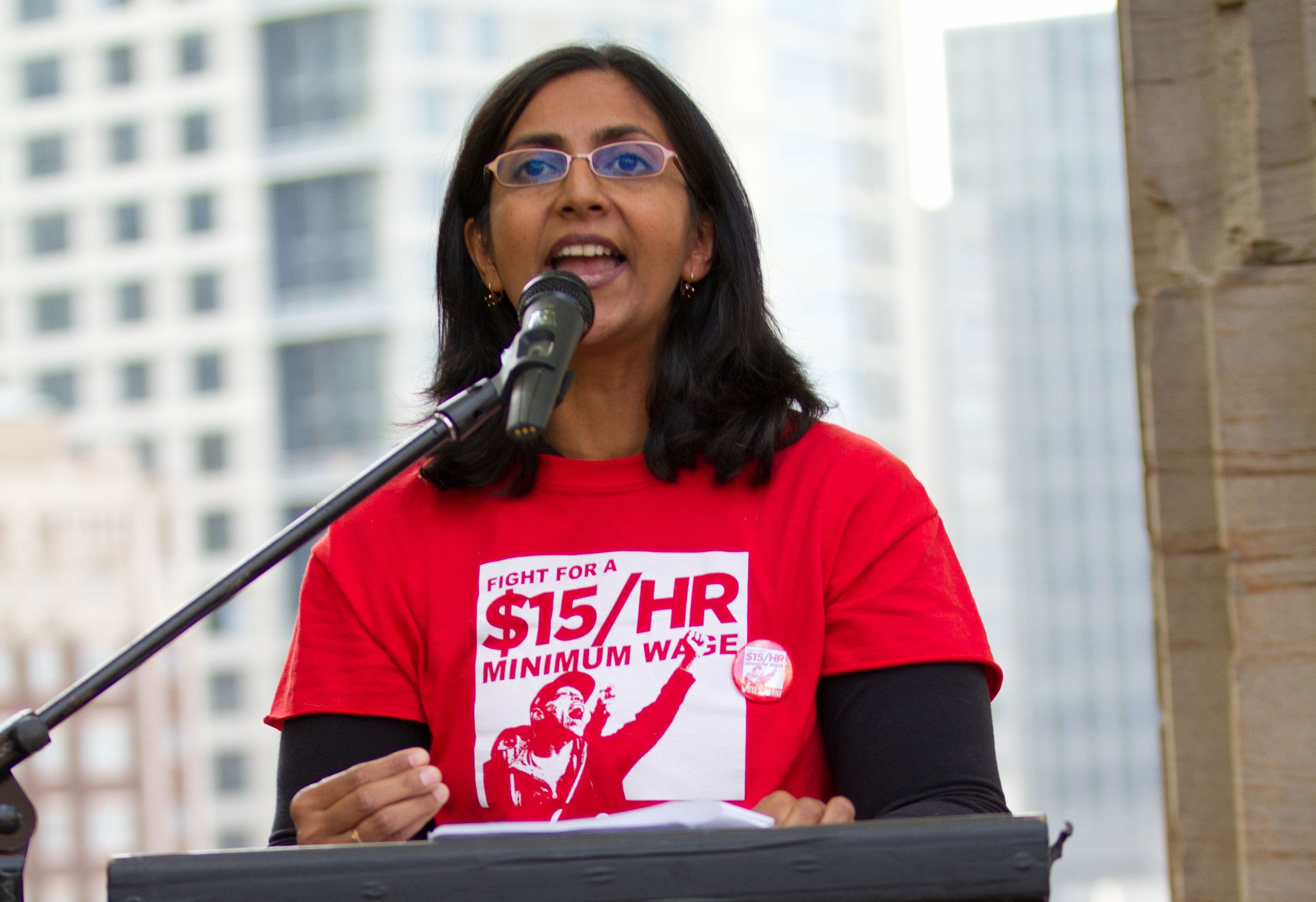 During their union membership meeting this past week the Greater Seattle Local of the American Postal Workers Union endorsed Kshama Sawant's dynamic socialist campaign for city council. APWU joins the growing list of labor endorsements which includes AFSME Local 1488, AFT Local 1789, IBEW Local 46, and CWA Local 37083.
Sawant is running for City Council position 2 against 16-year incumbent Richard Conlin who has consistently supported the interests of corporations over working people. From being the sole vote against paid sick leave, to opposing a $15 an hour minimum wage, to the wholesale giveaway of South Lake Union to Amazon and Paul Allen's Vulcan real estate company, Conlin has proven himself a reliable and loyal servant of the downtown business establishment.
Sawant is calling for a citywide minimum wage of $15/hr, affordable housing through rent control, and a Millionaires Tax to fund mass transit and education.
"With great honor, I accept this endorsement from my brothers and sisters in the APWU. The postal service and its workers have been under relentless attack by both the Democratic and Republican Parties who are threatening to eliminate Saturday delivery, close scores of post offices, and drive down postal workers wages and benefits. This endorsement points to the urgent need for the labor movement to end its abusive relationship with the Democratic Party and instead build an independent political movement that represents working people."
The endorsement from the APWU Local followed an unanimous nomination for Sawant by rank and file members of the union. "The APWU endorsement and the others my campaign has received points the way out of the straight-jacket of corporate politics and represents a watershed moment in the struggle to build independent working class political representation. Together we will take this fight forward to challenge the corporate policies of the Seattle City Council, cuts to vital public services, out of control rent, and for a $15 an hour minimum wage."
Five ways you can support our campaign:
1) Donate on-line at www.VoteSawant.org/donate
Unlike our opponent and other incumbents on the Council, we are not financed by big business and the richest 1%. Our political work is carried out by dedicated volunteers, and relies on the financial support of ordinary workers, young people, and activists. Contributions of any size are invaluable.
2) Like our Facebook page www.facebook.com/VoteSawant
3) Volunteer at Votesawant.org/get_involved
4) Endorse our candidate at www.VoteSawant.org/endorsements
5) Join Socialist Alternative!