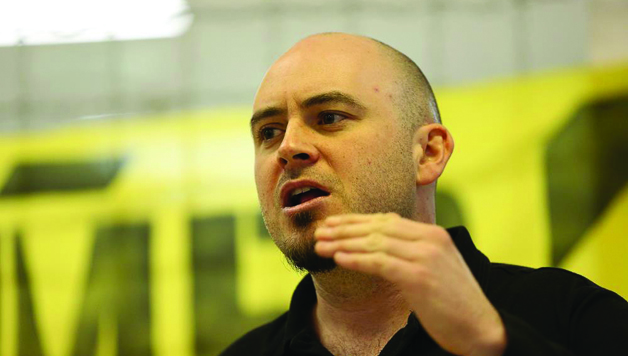 Endorsed by the Green Party and Socialist Alternative, Ty Moore's campaign is gaining support and momentum over DFL challengers.
Kelly Bellin, Campaign Manager for Ty Moore for City Council
Alongside other Green Party endorsed city council candidates, Ty Moore filed today for the 9th Ward in what appears to be a six-way race. "This election will come down to voting DFL and maintaining the status quo, or supporting our socialist and green challenge to politics as usual. People are fed up with the DFL letting the Chamber of Commerce and downtown corporations dominate city politics. It looks more and more like Ward 9 voters will surprise many by electing the first socialist to city council in decades," said Ty Moore before filing on Monday.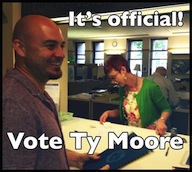 The new 9th Ward is widely considered the most progressive in Minneapolis, with a strong independent streak opening space for candidates to the left of the DFL to succeed. "We're running to win. We've built the strongest volunteer base in this race, with over 75 active supporters canvassing, phone-banking, organizing concerts, house parties, and a host of other activities," said campaign manager Kelly Bellin. "With nearly 150 yard signs up, our campaign is by far the most visible in the ward, and we are on pace to meet our fundraising target of $30,000." 
"I've been organizing other community leaders behind Ty's campaign because we believe he will fight to ensure working people have a voice in City Hall," said Ward 9 resident Veronica Mendez, Executive Director of CTUL, who led the strike of low-wage immigrant workers who clean Target stores in July. "Ty Moore is clear that we need to build long term social movements that go beyond any one candidate to make the changes we seek."
Shortly after Moore began his campaign in February, he gained publicity following an arrest at a civil disobedience action protesting foreclosures outside Wells Fargo Home Mortgage. alongside leaders of SEIU, Minnesotans for a Fair Economy, and Occupy Homes MN. Explaining his actions, Ty said "our politicians need to stand up and commit to the struggles of working-class communities." As a start, Moore pledged to accept the wage of the average Ward 9 resident instead of the $80,000 salary which city councilors pay themselves, donating the rest to social justice work.