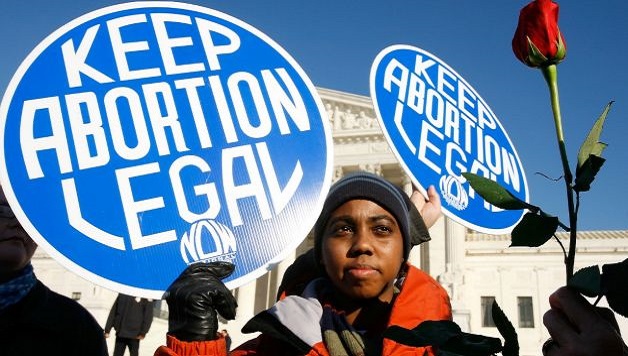 The right wing "war on women" was well-publicized during the months leading up to the 2012 presidential elections. This "war", which largely targeted women's reproductive rights, did not cease with the reelection of Barack Obama in November.
In April 2012, Governor Phil Bryan of Mississippi signed House Bill 1390 into law, requiring all physicians associated with abortion clinics to have staff and admitting privileges at a local hospital. The bill also requires these physicians to be board certified or eligible in obstetrics and gynecology. This law could very well shut down the one remaining abortion clinic in the state, further limiting poor and working class women's access to safe abortions. A similar bill was passed in Indiana in 2011 and in Tennessee in 2012. Most recently, and somewhat predictably, this assault on women's reproductive rights has found support in the ultra-conservative Alabama state legislature.
On February 19th, the Alabama State House passed "TRAP" bill HB-57. TRAP stands for "Targeted Regulation of Abortion Providers", but the acronym is quite apt given the implications of the bill. Alabama isn't known for being particularly progressive, but this latest assault on women's rights has potentially catastrophic implications for women's health, and most significantly impacts working and poor women in the state. The bill essentially mandates the same requirements for abortion-providing physicians as the aforementioned Mississippi bill (HB 1390) that was passed last year. Additionally, this particular bill defines abortion as "the taking of human life," causing "the death of the unborn child" which could pave the way for further anti-choice legislation.
It's important to understand how state legislators are presenting/disguising these bills, and how they can easily lead to the elimination of accessible, safe, legal abortions. Alabama's HB 57 sponsor Rep. Mary Sue McCurkin (R) states that this bill is "truly a women's rights bill" because the bill "protects the right of women having an abortion to have it in a healthy, safe environment." This statement is misleading for a couple of reasons–the first being that it presupposes that abortion clinics and abortion-providers are not already regulated by Federal and State safety standards. This is far from the truth.
Abortion clinics nationwide are already required to adhere to a number of safety regulations. These regulations include the federal Clinical Laboratory Improvement Amendments (CLIA), Health Insurance Portability and Accountability Act (HIPAA), and Occupational Safety and Health Administration (OSHA) requirements, as well as state and local regulations, including building and fire codes. In addition, all medical professionals, including clinicians who perform abortions and work in abortion care, are required to maintain professional standards and licenses and are expected to complete continuing medical education courses. The bill also assumes that abortion is a particularly unsafe procedure, and that the present, typically outpatient setting, places women's health at risk. In actuality, abortion has been established as one of the safest medical procedures provided in the U.S. with 90% of abortions performed in an outpatient clinical settings and fewer than 0.3% of abortion patients requiring hospitalization.
Clearly, the true motivation behind the passage of these TRAP bills is not women's health and safety. They are instead an attempt to circumvent Roe v. Wade by requiring often unattainable standards by which abortion clinics and providers must abide. Many abortion providers, especially in more rural or non-metropolitan areas, come from other states or counties to assist an under-served population. These physicians typically do not have admitting privileges in local or county hospitals. Failure to secure a physician with admitting privileges in a local or county hospital would make it impossible for abortion clinics in the state to comply with legal guidelines, and therefore, to remain open.
The closure of these clinics would be especially disastrous for working and poor women who rely on these clinics for reproductive health care services, as well as safe abortion services. Wealthy and middle class women may be able to afford to see a private physician for reproductive health evaluations or to travel several hundred miles to have a safe, legal abortion, but most working and poor women will not be able to afford these options. They will instead be left to the same sometimes crude and often dangerous methods that women utilized before abortion was legalized in 1973. In fact, after abortion was legalized in the U.S., there was a dramatic decrease in pregnancy related injury or death. Studies show that restricting access to safe, legal abortions doesn't decrease the number of abortions completed, it merely places women at a greater risk for infection, injury, or death.
Alabama's state senate is expected to vote on the TRAP bill (HB 57) on March 6th. In order to effectively fight back against this right-wing assault on women's rights, working and poor women in Alabama and in the southeast cannot rely on simply appealing to legislators. We need to instead, stage mass demonstrations, rallies, and protests at the State Capitol to send a clear message to our lawmakers that we will be not stand by and allow them to vote away our rights. We need to boldly defend a woman's right to choose whether and when to have children. We should assert the need for a publicly funded, single-payer health care system with free reproductive services, including all forms of birth control and safe, accessible abortions. We need to demand comprehensive sex education. If a woman chooses to have a child, we should call for both paid maternity, as well as paid paternity leave. Additionally, we should demand that women who choose to have children have access to fully subsidized, high-quality child care.
These ever-increasing legislative assaults on women's rights will not cease unless working and poor women and men join together in mass demonstrations. Women cannot rely on the two parties of the ruling class to protect their health or their interests, but need to instead work to build a party of and for working people that can truly fight for the rights and health of working and poor women everywhere.