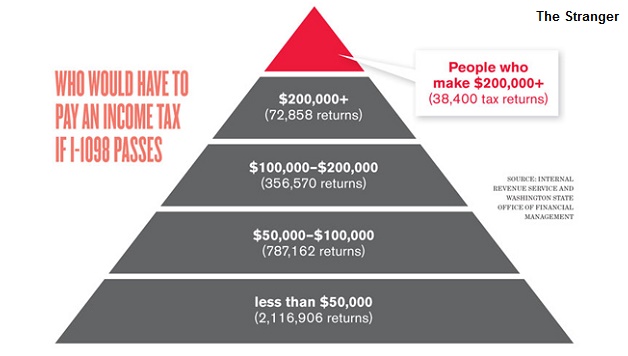 Working people should vote YES on WA Ballot Initiative-1098 to create an income tax on the wealthiest 1% of the population to raise approximately $2 billion/year for education and healthcare. Washington is in the midst of a deep budget crisis. Currently the state budget deficit is a massive $4 billion, which was triggered by the worst economic crisis since the 1930s. Unfortunately the Democratic Party-controlled government is attempting to balance the budget on the backs of working people and the next generation by severe cuts to education, health care and vital public services.
In this current round of cuts, $84 million is being cut from higher education. This has had a devastating impact on access to education, with 15,000 students being denied financial aid. DSHS has also been badly hit with $280 million being cut from their budget. Hospice care for the dying, prenatal care for pregnant women, and health care for poor children are all on the chopping block. Nick Federici, a member of WA Low Income Housing Alliance described the cuts to DSHS as "widespread carnage for low-income and vulnerable populations.… There's a lot of blood. We're just trying to see how deep it is."
The wealthy elite have launched a ferocious TV and radio campaign to scare working-class people into voting against I-1098. They claim that if I-1098 passes, it will lead to an income tax on all Washington residents. However, I-1098 would only tax the richest 1.2% of the population – individuals whose income is more than $200,000/year and couples whose income is more than $400,000/year. If 1098 passes, the legislation states that in the future "the tax imposed may not be increased for any income level without a majority vote of the legislature and approval of the voters in an election." The legislation also proposes that small business owners and property owners receive tax cuts.
We don't think Washington's massive budget crisis should be paid for with new taxes on working people. Nor do we think we can afford cuts to education, social services and layoffs of public sector workers. But, the rich can afford to pay new taxes.
For years the rich have avoided paying their fare share in taxes to fund education and social programs we as working people need. Washington ranks dead last – 50th out of 50 states – in the fairness of taxes on poor and working people. People who make less than $20,000 a year, pay 13.1% of income in sales taxes and 4.2 % in property taxes, a total of 17.3% of income – almost $3,500 on top of federal and local taxes. Working people making between $20-37,000 a year pay a total of 12.7% in state taxes.
Compare this to the top 1% of income earners in Washington who make over $537,000, with an average income of $1.8 million. They pay a mere 2.9% of their income in state taxes! I-1098 would be a big step toward a fairer tax system.
Since the beginning of the economic crisis, the rich elite and Wall Street bankers have promoted a whole host of policies that forced tax-payers and the working class to pay for the economic crisis while they get bail outs and bonuses. I-1098 can be a starting point for fighting back against corporate politics. Creating an income tax on the wealthy could also pave the way for taxing the enormously profitable corporations in Washington in the future. If we taxed Microsoft, Amazon, Boeing, etc., we could not only hold the line on budget cuts but we could fully fund education, public transit, public health, etc.
In order to hold the corporations and rich accountable for the recession they created, working people and young people need to build a mass movement of rallies, marches, and strikes to demand an end to cuts and full funding for social needs!
Vote for I-1098 by Election Day (Nov. 2) and join us in the struggle to stop budget cuts! Help us replace this capitalist system, which is controlled by corporations and the wealthy, with a democratic socialist society run by the working class for the working class – a society run for human need, not corporate greed!
For more info or to help build a movement to change society, contact Socialist Alternative!