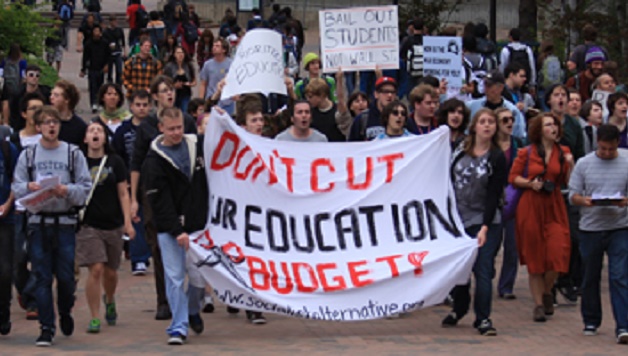 Bellingham, WA — Socialist Alternative, along with our partners in the Western United to Defend Education coalition, held a spirited rally and march at Western Washington University on October 7th as part of the National Day of Action to Defend Public Education. Over 100 students, faculty, and community members were on hand to fight against budget cuts, tuition hikes, cuts in financial aid, layoffs of faculty and staff, among other issues.
The Washington state government has reduced the budgets of public colleges and universities by a staggering 34% since the economic recession began in 2008, and now Democratic Governor Gregoire is calling for yet another 6.3% cut. These massive cuts in state support for colleges have been compensated for by raising tuition approximately 14% year after year, putting higher education increasingly out of reach to working-class students, especially racial minorities.
2009-10 was the first school year that private tuition provided more revenue for Western Washington University than state funding. Public schools are in essence being privatized, with alarming speed.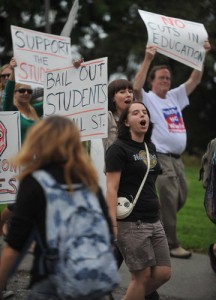 The October 7th protest succeeded in calling attention to these detrimental policies with speakers from not only Socialist Alternative but the United Faculty of Washington State, MEChA (Latino student group), the Black Student Union, Veterans for Peace, and the Associated Students as well. A number of speakers stressed the need to continue to fight against the education budget cuts and to continue to organize, rally, and put pressure on the politicians that would rather bail out banks instead of our schools. Some of the biggest applause was heard when speakers reminded the rally that October 7th was the 9th anniversary of the U.S. invasion of Afghanistan and that the money being wasted on that endless war should be used to fund not only our education but health care and other social needs.
The Western United to Defend Education coalition consists of Socialist Alternative, United Faculty of Washington State, MEChA, Whatcom Peace and Justice Center, Veterans for Peace, Iraq Veterans Against the War, U.S. Senate candidate Bob Burr, the Alternative Library, and others. Numerous students commented after the rally that it was good to see such a diverse and robust coalition working together to fight against the cuts in education.
The Western Front campus newspaper had at least two reporters in attendance, and one of their photos made it on their website. The Bellingham Herald also had a photographer who took pictures at both the rally and the march, one of which they made their "Photo of the Day." Along with these two newspapers, KOMO radio 1000 sent a reporter, and Jake Silberman, a Socialist Alternative member was interviewed live by Joe Teehan from the Joe Show on KGMI 790 radio as the rally was going on.
The march after the rally was also very successful and inspiring. Chants, such as "Education cuts? No thanks! Bail out schools not the banks!" could be heard from a distance. Students still in class later reported that they could hear the chanting in their classrooms as we marched across campus.
At the end of the march we crowded onto the stairs leading to the entrance of the Old Main building underneath Western Washington University President Bruce Shepard's office. We chanted "Hey hey, ho ho, budget cuts have got to go!" letting the administrators, the Board of Trustees, and ultimately the state and federal governments know that we are not going to sit back and allow budget cuts to continue to erode our public education institutions year after year. We will continue to fight, and we will continue to build a larger, stronger movement to defend public education.
Western Front article 10/05/10
Bellingham Herald article [outdated link]
Bellingham Herald photos [outdated link]
The "Joe Show," KGMI 790 AM Radio (fast forward to middle of podcast after first interview) [outdated link]
Western Front article 10/08/10
Western United to Defend Education can be contacted at [email protected] and (360)510-7797  [outdated info]