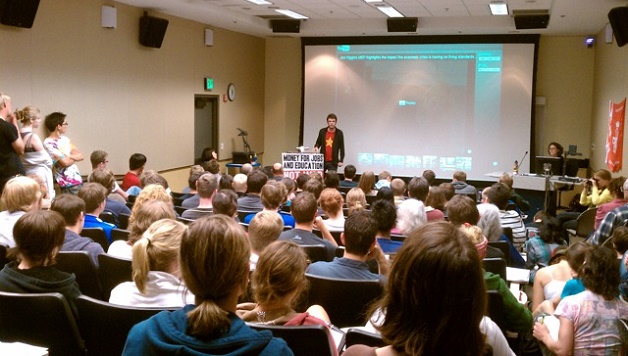 140 people came to Western Washington University in Bellingham, Washington on September 28, 2010 to hear Cian Prendiville from the Socialist Party of Ireland make "The Case for Socialism." This was one of the largest turnouts to a public meeting on the topic of socialism that Socialist Alternative has ever organized in the U.S.
One student expressed the sentiment of many people who came to the meeting. "It was inspiring to see the room completely jam packed with people discussing socialism as an alternative to our profit-driven, corporate-controlled society."
The high turnout of students reflects the growing interest in socialist ideas, particularly among youth. A May 4, 2010 Pew poll found that only 52% of Americans supported capitalism, while 29% reacted favorably to socialism. But among people between 18 and 30 years old, supporters of socialism and capitalism were evenly divided at 43% each!
Similarly, support for socialism was dramatically higher among blacks, women, and low-income groups.
This growing support for socialism has taken place in spite of the relentless barrage of free-market propaganda from the capitalist mass media. Most media outlets in the U.S. are owned by only 5 corporations, and there is not a single major media outlet or politician in the U.S. that publicly advocates socialism. On the contrary, every major media outlet and politician dismiss socialism as an inefficient, bureaucratic economic model. Despite all this, a third of Americans and half of young people favor socialism over capitalism!
How can this be explained?
Karl Marx's materialist philosophy explains that people's ideas are ultimately shaped by their material experiences — their day-to-day experiences in the real, material world. When working-class people and young people are increasingly experiencing unemployment, discrimination, war, and environmental devastation, and at the same time bankers are getting bailed out and receiving huge bonuses, then workers question the social system and seek out an alternative, despite the elite's propaganda against socialism.