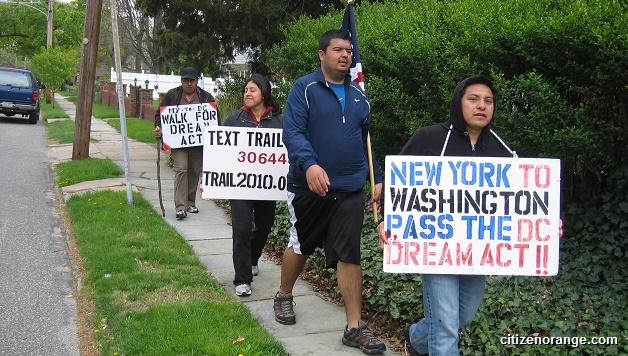 On May 17, several undocumented immigrant youth staged a sit-in at Arizona Senator John McCain's office demanding he support the DREAM Act (Development, Relief, and Education for Alien Minors) sponsored by Senators Dick Durbin and Richard Lugar.
Undocumented youth who graduate high school today are effectively barred from higher education, unable to get student loans or in-state tuition, among other obstacles. This further cements the second-class status of undocumented youth.
The DREAM Act's basic promise is that, in exchange for completing a college degree or military service, undocumented youth would be offered a path toward citizenship. With the nightmare of deportation constantly hanging over their heads, many youth see the DREAM Act as the most realistic path to legalization.
The students protesting in McCain's office were arrested and are now awaiting deportation hearings, but their heroic actions have sparked walkouts, hunger strikes, traffic blockades and other youth-led actions across the country. As the wider immigrants' rights movement also grows, the struggle for the DREAM Act is likely to intensify this year.
The youthful movement for the DREAM Act, particularly the actions of undocumented youth risking deportation, should receive the full solidarity of the wider social justice movement. With continual delays on immigration reform in Washington, the growing impatience displayed by young activists is completely justified.
But a strong note of caution must be raised about what lurks inside the DREAM Act. While access to college is correctly the main rallying cry of supporters, the military service "option" may well be the dominant route through which undocumented youth seek citizenship.
According to a study by the National Council of La Raza, immigrant students and Latinos overall receive the least funding and preparation for college. They have the highest dropout rates (52%), lowest graduation rates (45%), and are least likely to receive a Bachelor's degree (8%). These shocking statistics show why the academic route to DREAM Act eligibility will be available to a tiny minority.
One of the bill co-sponsors, Senator Dick Durbin, was quoted in the Army Times (16 July 2007) saying: "It turns out that many in the Department of Defense believe, as I do, that the DREAM Act is an important part of making certain we have talented young men and women ready to serve in our military… Under the DREAM Act, tens of thousands of well-qualified potential recruits would become eligible for military service for the first time."
Republican establishment figures like Senator Richard Lugar support the bill because it creates a huge new pool of potential recruits for U.S. capitalism's war machine. A military in the midst of imperial overstretch in the Middle East and Central Asia will need every available source of cannon fodder.
While supporting the aspirations of activists fighting for the DREAM Act, we must soberly explain it fails to provide a route to citizenship for the majority of immigrant youth. We must urgently step up the fight for full legal rights for all immigrants. And to cut across attempts to scapegoat immigrant youth, the movement must raise demands addressing the broader needs of workers and youth, including a massive increase in education funding for all.