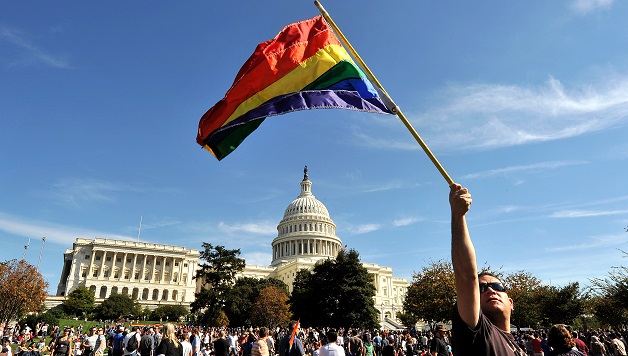 Being an LGBT person means facing discrimination in the workplace, bullying at school and in many cases from family members, not being able to marry your loved one legally, and being faced with higher rates of suicide and homelessness (between 20 and 40 percent of homeless youth identify as LGBT).
Since getting elected with the support and money of the LGBT community, Obama has done little more than pay lip service to LGBT issues. He has consistently refused to support Gay Marriage (supporting only ""civil unions""). In the more than a year that the Democrats have controlled the White House and Congress, the Defense Of Marriage Act (DOMA) – banning gay marriages from being federally recognized – has not been repealed, and the Employee Non-Discrimination Act (ENDA), which would federally ban employment discrimination against LGBT people, has not been enacted. Even Don''t Ask, Don''t Tell (DADT) – which bans LGBT people from openly serving in the military – has been slightly weakened but has not been repealed.
All this further shows that the tactic of quietly asking Democrats to help while funding them with millions of Gay dollars is not and will not be successful. Instead, it is necessary to challenge the Democrats with  a strong movement in the streets. We have seen the first steps of this with the protests that happened nationwide after the passage of Proposition 8 in California, banning Gay Marriage in that state, in 2008, the National Equality March in Washington, D.C., in October of last year, and a series of regional conferences of LGBT activists this spring.
A national week of action is planned starting May 17 – International Day Against Homophobia – and ending May 22, the birthday of Harvey Milk, a slain San Francisco LGBT rights activist from the ''70s who at the time stood up to the Democratic Party higher-ups and put the question of LGBT equality on the table. These are good steps forward, but a real movement will need to be built that really challenges the Democrats. This needs to be built by holding protests in the street, building local LGBT activist groups, and linking up the LGBT struggle with other progressive struggles like the labor movement.
The need for a massive jobs program, for real universal single-payer health care, for an end to evictions and foreclosures, and for an end to outrageous bailouts of major banks are issues that affect all working-class people and youth, irrespective of sexual orientation. Fighting together on these issues can provide the basis for building a powerful movement to force a change in policy in Washington, D.C. We also need to challenge the Democrats electorally, running genuine activists as candidates up against the Democrats. It''s not enough to simply say "Don''t vote Democrat"": alternative candidates need to be put forward. We need to build a movement that supports demands including full federal employment and marriage equality, funding for social services like youth centers for LGBT youth and all youth, homeless shelters, and free, quality health care for all.
However, as long as we still live under capitalism – a system that is based on dividing and conquering working people along lines like race, gender, and sexual orientation – we will never be able to achieve true equality for LGBT people.