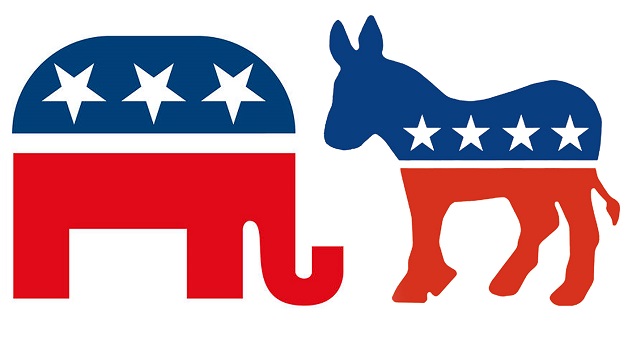 After the immense hopes placed by millions of Americans in Obama, the Democrats have again shown themselves for what they really are: a party beholden to the interest of big business.
The Obama campaign inspired millions to actively participate in politics in an era when many media commentators assumed political activism to be dead. Millions were eager to engage in the political process and to make their voices heard. They felt that they were making history by ushering in ""change.""
But what happened to Obama''s promises? Many who supported his campaign believed he and the Dems would put an end to the wars in Iraq and Afghanistan, would institute universal public health care, strengthen workers'' rights through the Employee Free Choice Act (EFCA), support amnesty for undocumented immigrants as well as marriage equality for the LGBT community.
None of this has happened. At a state level, Democrats have implemented painful budget cuts. The majority of the country is looking for radical change to the two corporate parties. But without a movement challenging both parties from a working-class outlook the anger has been funneled behind the right-wing Tea Party movement which doesn''t threaten corporate interests. In fact, the majority of people are not attracted to Tea Partiers. They are looking for a left-wing alternative for jobs and services, which hasn''t yet come to the fore.
There are a number of important signs that this might be starting to emerge. The fightback against budget cuts, foreclosures, and unemployment has already begun. The recent nation-wide March 4 protests in defense of public education showed the will of thousands of students and educators to demand their rights to good jobs and affordable education.
Jobs, affordable health care, quality education, an end to wars, and taxing the rich to fund desperately needed public services: these are the things which survey after survey show the majority of Americans support. But neither the Republicans nor the Democrats have shown any will to push for these demands.
There is a growing mood to run candidates to the left of the Democrats. This offers the opportunity to build a new left-wing, pro-worker political alternative. Independent candidates like Dan La Botz in Ohio, Jill Stein in Massachusetts, and Richard Curtis in Washington state are actively campaigning in the interests of working people.
Independent Candidates Running
La Botz, a long-time labor activist, states: ""Working people make the country run. And working people – not the banks, corporations, and politicians – should run the country"" (www.danlabotz.com). Jill Stein calls for government to ""fully fund K through 12 education in every year, in every budget, for every student"" (www.jillstein.org). Richard Curtis supports ""massive federal works programs, a Green New Deal, to get America back to work while reworking the economy in an environmentally sustainable way"" (richardcurtis4senate.org).
These candidates deserve the support of all workers and young people as a step to building a left-wing anti-corporate pro-worker political movement. Furthermore, the recent rise of the right-wing Tea Party movement shows the dire need for an organized, anti-corporate left that can combat this threat to working people and immigrants.
As the only sizeable organizations that fight specifically for the interest of workers, labor unions have an important role to play in this. When their weight is thrown into the struggle, they can make a huge impact. Instead of wasting millions of dollars every election in supporting the Democrats, labor unions should put their money and their efforts behind independent candidates who stand unequivocally for working peoples' interests.
Labor Anger Grows
There are important signs that the anger of workers is starting to be felt in labor unions. In Pittsburgh, the local leadership of the United Steelworkers (USW) have drawn up plans to challenge incumbent Rep. Jason Altmire (D) with an independent, pro-labor candidate, Jack Shea. As Tim Waters, director of the USW''s Rapid Response political arm recently said about this decision, ""Anyone turning their back on us now is going to be met with the harsh reality that we''re going to be looking for other alternatives and actively seeking other alternatives"" (Pittsburgh Post-Gazette 21 March 2010).
In North Carolina, the Service Employees International Union (SEIU) has begun collecting signatures necessary to register a new political party, North Carolina First, in time for the fall 2010 elections. This is clearly an attempt to punish North Carolina House Democrats who have consistently served corporate interests.
In New Jersey, where Republican Governor Chris Christie is pushing for massive cuts and layoffs in the public sector, Democrats in the state legislature are also supporting cuts. Bob Master, a regional director of the Communication Workers of America (CWA), has raised the possibility of unions fielding their own candidates.
While we can''t expect much from the current national leadership these actions should serve as a template for grassroots organizations across the country to challenge the program of the corporate politicians.
We need labor and community organizations, progressive activists, workers, and young people to organize to form coalitions to run independent left candidates. Union members should demand that unions stop funding and supporting Democrats or Republicans and support independent, anti-corporate candidates. The union movement should be at the forefront of these movements, mobilizing their members for campaigns, mass rallies, demonstrations, and strikes when necessary to defend the interests of working people and public services.
Starting to run candidates independent of the parties of Wall Street and big business would be an important step forward: towards building a new political party of the working class. Building a broad movement on the streets alongside running independent candidates is the only way to defend jobs, public services, and education, and to end to the wars.