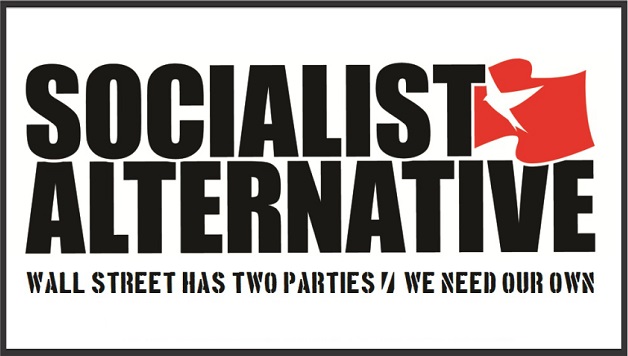 Tacoma is a military town. But when the principal of Foss High School cancelled a "controversial" meeting of the group Students Against the Draft and War, she was shocked at the depth of anger at her action.
Within 48 hours of the principal's attack on free speech – after hundreds of protest phone calls and a 60-strong student demonstration – the principal reversed herself and gave into all the students' demands, allowing the meeting to go ahead and promising to provide two weeks' notice before military recruiters come to school so students can set up anti-war information tables next to them.
The main local paper, The Tacoma News Tribune, covered the protest on the front page of their local section under the headline "Hell No, We Won't Go," and the Tacoma Weekly made the protest its cover story!
Clara Lightner, a Foss sophomore and Socialist Alternative activist, initiated Students Against the Draft and War at her school. Clara describes some of the events:
"A few months ago, I joined a group in Tacoma called Socialist Alternative. They were working on starting a campaign to fight military recruitment in schools. We've passed out fliers at lunch time and had students sign up for an email list. There is a big anti-war sentiment among people my age, and especially minorities who are aware of the fact that military recruiters target them for joining their wars… The teach-in was going to be the first big public event for our group."
"Chief Allen, a JROTC instructor, confronted my vice-principal and my teacher who had offered access to his classroom for our after-school meeting. Also, some students in my school's JROTC program were planning to disrupt the meeting by bursting in wearing their combat uniforms."
Under these circumstances, the Principal cancelled the meeting. Members of Socialist Alternative and other local activists sent out appeals for support, which resulted in a steady flood of calls.
Clara describes the effect of the action: "This victory for free speech was the result of the tremendous student support we received in Foss and from thousands of supporters from around the country and world. Even the steelworkers' national union office called me to guarantee 100 calls to my principal.
"The entire school was aware that they had been receiving hundreds of phone calls. The students are very excited to know a campaign like this is going on at their school."