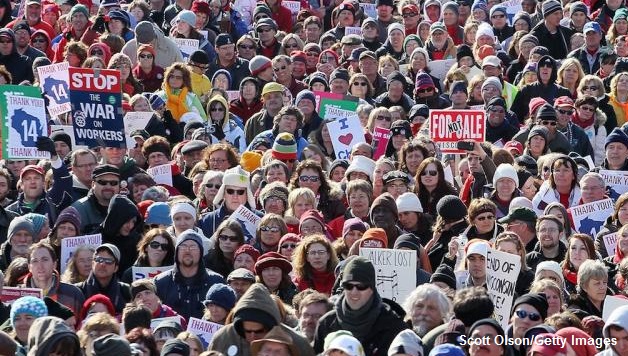 By Billy Wharton, Chief Steward – SUNY Stony Brook, GSEU/CWA Local 1104
For the 4,000+ Teaching and Graduate Assistants at the State University of New York, graduate school means more than long hours of reading about obscure subjects. It means poverty conditions for a unionized workforce!
Although the Graduate Student Employees Union (GSEU) had militant roots at its inception, years of company unionism have produced sell-out contracts. Grad students are paid $10,000 per year on average, in addition to having a dangerously inadequate healthcare plan, no right to contest firing, and only five days of maternity leave.
In the current round of contract negotiations, New York State has demanded further concessions on healthcare amounting to increases of nearly 100% in the cost of most co-payments. The state has also rejected GSEU negotiators' meager demands for some contract violation grievance rights, federal standards for maternity leave, and wage increases (7%, 8%, 9%, 10%). Instead, the Pataki-led State negotiating team is offering wage increases of 0%, 2.5%, 2.75% and 3%. This will not even begin to cover the cost of healthcare increases and after inflation will barely effect the condition of workers who live on 97 cents per day after expenses.
The company unionism of the GSEU past would have led to an acceptance of this draconian package. But now, graduate students throughout the SUNY system are getting hip to the power of mobilization. In the spring semester of 2004 every university center in SUNY organized public demonstrations to demand a just contract. This October, mobilizations have increased in size and grown more aggressive in tone on the Binghamton and Stony Brook campuses.
At Stony Brook, more than 120 union members participated in demos that used political theatre (the Stony Brook TA Tortoise vs. the Ivy League Hare) to highlight the inequality between ruling-class and working-class education. After the play, union members stormed into the president's office to demand her support in our contract fight and share the only food a TA can afford – Ramen Noodles. Although a new aggressive fighting spirit has inspired rank-and-file-led actions, other sections of the union have tired from the 18-month battle.
The slow bitter road back to company unionism can only mean another round of sell-outs for grad students. In this situation, where mobilizers are beginning to square off against bureaucrats, we are calling for solidarity from all sectors of the trade union and socialist movements. Please sign on to our petition at www.petitiononline.com/GSEU2004 and contact us at [email protected].