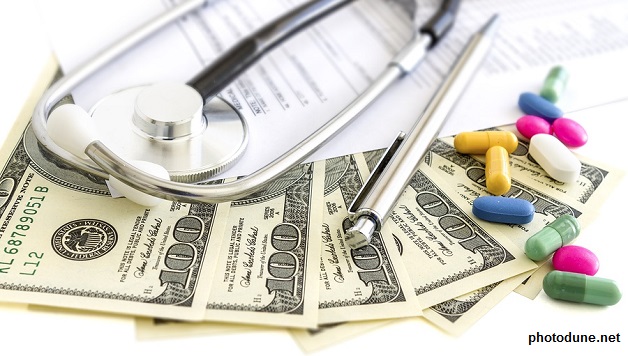 With healthcare costs skyrocketing and the public voicing increasing disgust with the U.S.'s profit-driven health system, healthcare is shaping up to be an important issue in the 2004 presidential campaign.
The Democratic presidential candidates have all crafted detailed proposals that they say will address the crisis of the uninsured. Even President Bush is getting in on the act, boasting about his recent legislation that added a prescription drug benefit to Medicare. However, don't expect these corporate-sponsored politicians to offer us healthcare on a silver platter – the plans they're serving up are either woefully inadequate or include giant handoutsA January poll conducted by Republican pollster Bill McInturff and reported in the New York Times found that "affordable healthcare" ranked second among voter concerns, after only the economy and jobs. When asked in polls, a large majority of Americans consistently say they support the creation of a publicly financed universal healthcare system as an alternative to the current costly system in which 43 million Americans lack health coverage.
Senior citizens tired of overpaying for prescription drugs are joining advocacy groups and buying their drugs from Canada in defiance of the Food and Drug Administration. Supposedly responding to their concerns, Bush announced he would support government-sponsored prescription drug coverage. Then he pulled off a major political feat – he signed into law a new Medicare prescription drug benefit that did little to help seniors, while putting more money in the pockets of his friends in the health industry.
For the first two years that the new law is in effect, seniors will receive special discount cards for purchasing drugs. But the cards offer only 10-15% off regular prices, less than some discount programs already available to seniors. When the full Medicare drug benefit kicks in, in 2006, seniors will pay at least $35 per month for limited coverage with high deductibles. According to the Medicare Rights Center, seniors "must spend $3,600 out-of-pocket for covered drugs before [their] out-of-pocket costs are reduced substantially."
Most important, the Bush plan favors private companies over the public sector, allowing seniors to get their drug coverage directly from the government only if there is no for-profit provider in their area. The plan requires Medicare to "compete" with private insurance plans in 2010 (with the private plans receiving extra subsidies) and forbids the government from using its bulk purchasing power to negotiate for lower drug prices. That's right: the government cannot do what any for-profit health insurer routinely does – use its market share to get benefits for itself and its members.
Goldman Sachs estimates that the law will generate $13 billion each year in new revenues for pharmaceutical companies.
Presidential frontrunner John Kerry has sharply criticized the new Medicare law. Yet, his own healthcare plan, a patchwork of subsidies and tax credits, also focuses on corporations at the expense of workers. Kerry wants the federal government to help insurers pay the cost of employees' emergencies and hospital stays, and to provide tax credits to businesses so they can pay their workers' insurance premiums. The money will go to the companies, not directly to the workers who need it.
As always, the devil is in the details. How much would Kerry require insurers to "hold down" premiums in exchange for the subsidies? The Kerry plan would allow people close to retirement age to buy into the health plan for federal employees at "an affordable cost" but does not define "affordable." Without these figures, the plan lacks meaning.
Kerry does propose giving unemployed people a tax credit to pay for 75% of their insurance costs. But unemployed workers often can't afford to pay medical bills up front, and may not pay enough taxes to qualify for a refund. With 43 million people lacking health insurance and monthly premiums reaching $500 in some states, this is just a drop in the bucket.
Election-year promises are just that – promises – unless a candidate is willing to stand up to the healthcare industry. In 1992, Bill Clinton was elected after promising to create a universal healthcare system. Yet despite the Democrats controlling both the House and Senate from 1992 to 1994, Clinton failed to deliver on healthcare, caving to pressure from the health insurance companies. In fact, under Clinton, the number of Americans without health insurance rose from 35 to 44 million.
Only a president willing to put the needs of working people ahead of corporate profits can make any progress in ending America's healthcare crisis. If John Kerry is elected, he is not likely to do so. Kerry's biggest bundler of campaign contributions – having contributed $101,800 to his campaign so far – is Skadden, Arps, Slate, Meagher, & Flom, one of America's top corporate law firms and counsel for pharmaceutical companies such as Pfizer and Endo Pharmaceuticals.
A free national healthcare system – publicly owned and run, fully funded, and covering everyone – is the real solution to the healthcare crisis. Workers in every other industrialized country have won universal healthcare.
Two of the current Democratic candidates, Dennis Kucinich and Al Sharpton, support a "single payer" universal healthcare system. They have been ridiculed and censored in the mainstream press. A front-page New York Times article describing the healthcare plans of the Democratic candidates (January 14, 2004) included only one sentence noting that Kucinich and Sharpton "advocate some form of national government-run health insurance." Other candidates' plans received detailed coverage.
With such hostility among health companies and media companies alike, the only way to win universal healthcare is through a mass movement of working people. This is the good ol' American method that has won us every bit of progress, from Social Security to the eight-hour day. An effective movement for free universal healthcare would include mass education, demonstrations, strikes, and running pro-universal healthcare candidates in local and national elections.
Such a movement would have to be independent of the corporate-controlled Democratic Party, a party that will attack and marginalize any candidate who supports universal healthcare. If Kucinich and Sharpton are serious about fighting for national healthcare, they should not endorse the Democrats' likely nominee, Kerry, who opposes national healthcare. Instead, they should break from the Democratic Party and support Ralph Nader's independent pro-universal healthcare, anti-war campaign for president. The Nader campaign can help popularize the need for universal healthcare and contribute toward building a mass movement in the streets, on campuses, and in workplaces for free, quality healthcare for all.