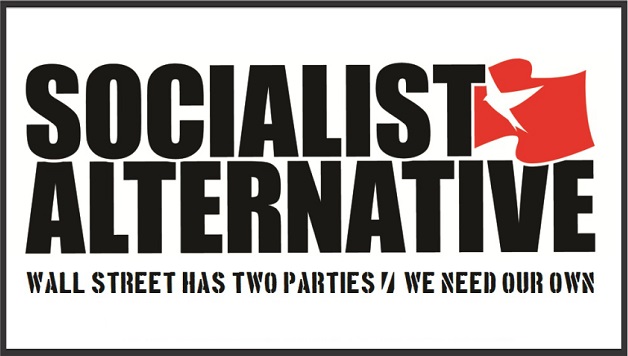 In the past year, nearly 100 workers have been laid off by Harvard University, and many other jobs have been eliminated through attrition. Harvard claims it is in financial crisis, yet its $19.3 billion endowment makes it the richest university in the world. Members of Socialist Alternative working at Harvard and other union members helped start the No Layoffs Campaign. Harvard student activist DAN DIMAGGIO from Justice interviewed JEFF BOOTH and TOM POTTER of the Harvard Union of Clerical and Technical Workers (HUCTW), AFSCME Local 3650.
JUSTICE: What has the No Layoffs Campaign done so far?
Jeff: The campaign has leafleted the community and done outreach to co-workers. We leafleted at a HUCTW rally and intervened with a No Layoffs banner and leaflets at a speech by Larry Summers, the president of Harvard.
Tom: Another campaign member and I ran for the union Executive Board on a no layoffs platform, and we've built up support among faculty and students.
JUSTICE: Are you being personally threatened with being laid-off?
Jeff: Yes, and they threatened more layoffs after June, the end of the fiscal year. So we all have a gun pointed at us. Most Harvard workers, myself included, live paycheck to paycheck. Our pay does not keep up with the horrific housing costs and other, inflated basic living expenses in the Boston area.
JUSTICE: What has the union leadership done about the layoffs?
Tom: The union leadership is making these wimpy statements which are making the problem worse. They are colluding with management to make the layoffs go smoothly.
JUSTICE: What's next for the No Layoffs Campaign?
Jeff: We have an important rally on February 26. That rally is going to be an opportunity to get out the word to the public more and show that there are a lot of workers who aren't going to take this lying down despite the inaction of the union leadership.
STOP PRESS!
The No Layoffs Campaign rally was a tremendous success, with 125 workers, students, and faculty in attendance. Workers facing layoffs spoke out against the devastating impact layoffs will have on their lives, and chanted "Lay off Larry!" (the president of the university, former World Bank chief economist Larry Summers).
---
The following article on the No Layoffs rally is from the Harvard University student newspaper, The Harvard Crimson. It can be found at http://www.thecrimson.com/article.aspx?ref=357843.
Workers and Activists Rally Against Layoffs
By Leon Neyfakh, Crimson Staff Writer
More than 100 Harvard workers, students and faculty joined community activists outside of Holyoke Center yesterday to protest University layoffs and service cuts.
The rally, which got off to a slow start at 5 p.m., built to a crowd of well over 100 people within half an hour as activists criticized Harvard's spending priorities.
"The University has plenty of money to buy up land and make lavish improvements around campus but it claims there's not enough money to pay the salaries of people who depend on their jobs to live," said Geoff P. Carens, a Harvard College Librarian and member of the No Layoffs Campaign (NLC), the activist group that organized the rally.
Throughout his speech, Carens contrasted recent job cuts with the University's $19.3-billion endowment and its multimillion dollar salaries for top money managers at the Harvard Management Corporation.
As Carens listed his grievances, the the crowd booed on cue.
Carens has been involved in the NLC since its foundation this summer. He is an employee of Government Documents, a division of the library that will lose 40 percent of its staff in a wave of layoffs at the Harvard College Library (HCL) scheduled to take effect at the end of June 2004.
Carens is also a member of the Harvard Union of Clerical and Technical Workers (HUCTW), but criticized the Union for not driving a tough enough bargain in negotiations with the University. He reiterated one of the NLC's planks-a call for a contract provision that would prohibit the University from laying off any more Union workers.
But HUCTW Director William Jaeger dismissed this proposed "no layoffs" clause as an unrealistic, if appealing "sound byte."
According to Jaeger, HUCTW is currently in negotiations with the University to ensure that those who were laid off are given priority in in-house job searches.
"There are more and more people who are part of an urgent conversation about that," he said. "The members of our union know that it's a hugely high priority question in the negotiations going on right now."
Although older activists dominated the megaphone for most of the rally, Harvard students like Hank R. Gonzales '06, also spoke out.
A member of the Socialist Alternative, Gonzales called the University a "big corporation that masquerades under the status of a non-profit educational institution."
Daniel DiMaggio '04, a member of the Progressive Student Labor Movement (PSLM), called the University a "corporate money-making machine."
Before his speech, DiMaggio, who was involved in the 2001 sit-in at Mass. Hall, said that PSLM's past victories are being undermined by the University's current practices.
"Harvard's doing the same things that it always does," he said. "It doesn't matter if people are making a living wage if they don't have a job."
Merry Touborg, spokesperson for Harvard University Human Resources, said that although layoffs were difficult, the University has a responsibility to its donors, students and alums "to ensure that as large a portion of resources as possible is preserved to meet Harvard's academic goals."
Touborg pointed to the downturn in the national economy as a reason for recent budget troubles.
"Like most of our peers we are now trying to adjust to the economy and meet the advice of the people who support the University to be sure that we're spending our money on our priorities," she said.
Touborg said that Harvard is doing more than most American businesses to protect workers.
"I think we are held to a higher standard," she said. "We are not cutting benefits, and we are very generous about how much time people have to look for a job, and very generous with our severance packages, if you compare it to other people."
Since last June, 202 Harvard employees have been marked for imminent layoffs, according to Touborg. That figure is composed of 100 administrative and professional workers, 85 members of HUCTW and 17 service and trades workers, she said.
Around the Horn
Between speeches, the group of picketers marched in a circle and alternately chanted, "Lay off, Larry!" and "Hey, Harvard: What'd you know? No more layoffs, you've got the dough!" Many people carried signs, sporting slogans like "Layoffs Wreck Lives."
Only a handful of students attended, including Undergraduate Council President Matthew W. Mahan '05, who was out to show his support for the labor movement.
"I don't see a pressing need for us to lay off people right now. This is just about keeping the endowment at a ridiculous level, which I don't think it has to be," Mahan said. "I think it's completely irresponsible and I think it's a bad example for us to set."
Mahan said that he would address the issue of labor protection at Sunday's Undergraduate Council meeting.
Vanessa A. Pope '07, a member of the Socialist Alternative, said that she was disappointed in the small number of students that came to the rally.
"I think if you believe in idealism, you should be here," she said. "I think it's a good protest, but I wish it were bigger."
According to Pope, Brian C.W. Palmer '86, lecturer on the study of religion, made an announcement about the rally in his course, Religion 1529, "Personal Choice and Global Transformation."
Although Palmer was not in attendance, two of his colleagues-Professor of Romance Languages Brad Epps and Loeb Professor of Classical Art and Archaeology David G. Mitten-made speeches during the protest.
Epps, a tenured professor who has worked at Harvard for 14 years, said the University should stop "conducting itself as if it were a multinational corporation with no soul, no concern for human life and no concern for human dignity."
After his speech, Epps said that he had tried to contact the administration many times about the job and service cuts. The only response he received was from Larson Librarian of the College Nancy M. Cline.
Epps said that although the response had "seemed reasonable on the computer screen," it was important to come to rallies and see the human beings.
"They're not just numbers," he said. "They're faces, they're bodies."
Professor Mitten's speech focused on the library system, which has been forced to lay off 14 workers and close Kummel Library and part of Hilles Library because of budget difficulties. Before cost-cutting measures were introduced last fall, the HCL was projecting a $2.3-million deficit for fiscal year 2005.
By 6 p.m., the sunset and the plummeting temperatures had reduced the crowd to about 35, but as the crowd dispersed, the remaining activists chanted, "We'll be back."