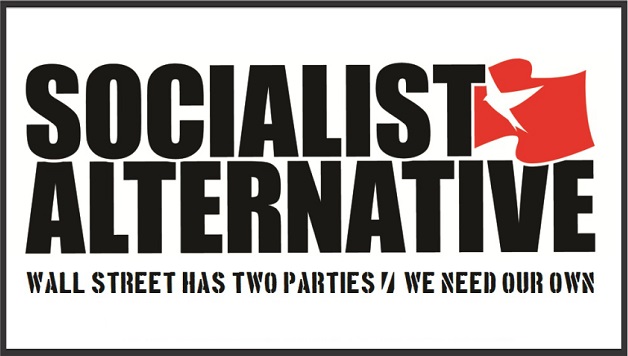 Year after year, jobs in the fast food industry remain some of the worst around. Working conditions are poor, pay is typically minimum wage, and there is little job security. Despite these horrible conditions, the industry remains completely non-union.
The image of the average fast food worker is a teenager working to earn some extra money. But in reality, with millions of well-paying jobs being eliminated, a fast food job has become the only source of income for millions of workers.
ROB (whose name has been changed due to fear of management retaliation), a Pizza Hut delivery driver and Socialist Alternative member, spoke with GREG BEITER from Justice about the campaign he and his co-workers are currently leading to unionize Pizza Hut.
JUSTICE: Why are you organizing a union?
R: Drivers and inside workers both make minimum wage, and drivers receive no raises. On top of this, all investment in delivery operations rests solely on the driver at Pizza Hut. Taking into account the costs of insurance, maintenance, and gas there is an immense financial burden placed on the drivers. A few have even reported they regularly take home less than minimum wage.
Delivery driving is also one of the most dangerous occupations. Drivers regularly get into car accidents. We've had drivers robbed at knifepoint, shot at, and even one attacked by a bear!
JUSTICE: How can a union improve your wages and working conditions?
R: First, we are fighting for a living wage. Secondly, we want shop stewards to represent and protect the rights of workers on the job. Also, a seniority system would prevent management from arbitrarily cutting workers' hours, and raises and promotions would be based on experience instead of management favoritism. A union contract would also give us benefits such as healthcare, paid vacations, and sick days.
JUSTICE: How have Pizza Hut workers responded to the idea of a union?
R: Excellent. About nine out of ten workers think it's a good idea. One in three wants to get directly involved with organizing or distributing educational material about the union. The vast majority of other workers support the idea, although many are initially somewhat skeptical of what it could achieve for them.
However, support for the union has typically increased after Pizza Hut's attempts to crack down on the workers. For example, in my store, management caught wind of union materials being distributed. They called a mandatory anti-union meeting to intimidate workers. But this only increased workers' anger towards management and their support for unions. Almost all the workers who hadn't expressed interest before this meeting came to me afterwards asking how they could get involved.
JUSTICE: What steps are you taking to form the union?
R: Before we go public with the campaign and put pressure on management to negotiate a contract, we want to build up the maximum solidarity and power among the workers.
We are constructing an organizing committee, composed of the most active, committed union supporters with at least one representative from each store in the area. The organizing committee members collect the contact info of all interested workers and distribute educational materials about the union at their store.
JUSTICE: Why are you organizing this campaign underground?
R: We want to avoid for as long as possible management intimidating or firing workers who support the union. Even though it is illegal to discipline or fire workers for union organizing, a common practice is for companies to fire the main organizers of a union drive, killing the campaign before it has the chance to develop.
The only recourse we have against management attacks is our own collective power. But it takes time to build solidarity among a solid majority of the workers. Currently, all the workers are not yet aware of the power they have through collective action. We're in the process of raising their consciousness about this.
JUSTICE: What role has Socialist Alternative played in the campaign?
R: Socialist Alternative has played a key role in providing advice on effective strategies and tactics. They have been dead on in anticipating management's responses. They've been lending their support from the beginning and have actually given me more time and resources than the union local involved in the organizing drive.